Jumeirah is one of the most sought-after residential areas along the coast of Dubai.
This waterfront community has a vibrant seaside feel and is also known for its proximity to one of the greatest hotels in the world, Burj Al Arab. The properties range from private villas to townhouses and even a few low-rise apartment buildings. Jumeirah Dubai creates a perfect neighbourhood for anyone looking for a lively yet tranquil residence.
Living in Jumeirah
Jumeirah is home to many villa compounds, most of which are the best-known compounds in Dubai. Living in villa compounds is a popular choice due to the accessibility to communal facilities and the security of living in a gated complex.
The community is not short of amenities itself, on top of that, there are many other places close by making the life of residents easier. The 'it' destination of the emirate, Downtown Dubai, which houses the mammoth shopping and entertainment destination Dubai Mall, is only a 10-minute drive away.
If you'd like to stay in the community itself, Jumeirah Dubai is home to many smaller shopping malls such as The Village Mall, Palm Strip Mall, Sunset Mall and more. The connecting route of Sheikh Zayed Road is 10 to 15 minutes away, depending on where you are within the community.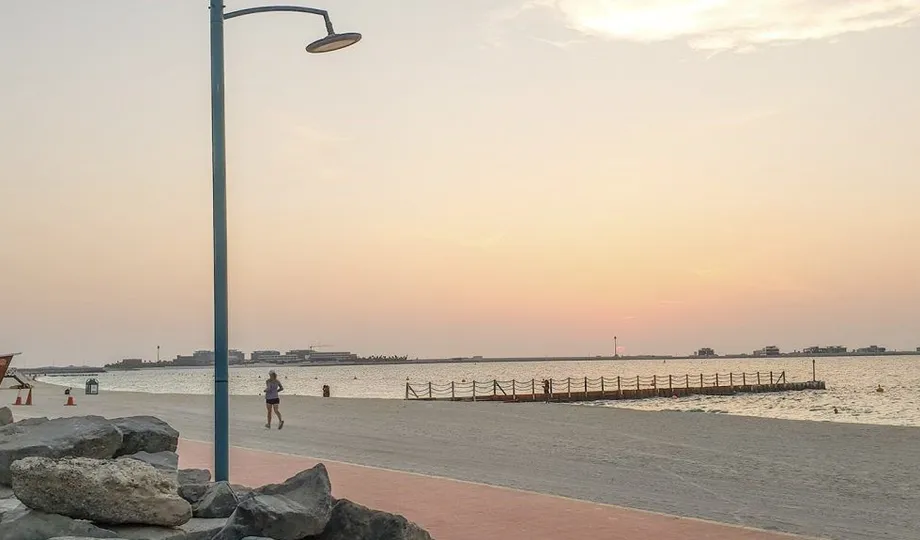 Connectivity in Jumeirah
The beachfront development by Meraas, La Mer is a great spot to relax by the beach, it also offers a variety of restaurants, cafes and shops. This is quite convenient for the residents as it is located 5 to 15 minutes away, depending on where you are in the neighbourhood. Another option would be Kite Beach, it is about 10 to 20 minutes away and is one of the ideal spots for a fun-day-out. The beach has an abundance of food stalls and activities for a perfect day out alongside the ocean water.
Jumeirah Dubai is well-regarded as being the host to a wide range of attractions. As mentioned earlier, two of the biggest landmarks of Dubai; Jumeirah Mosque and City Walk are located in the area.
Traffic is fairly less, making it a prime spot for those commuting to New Dubai hotspots
The Dubai International Airport is a 30-minute drive away, via Al Khail Road
Downtown Dubai is slightly closer: it is a 25-minute drive away (via Sheikh Zayed Road)
Commercial hubs such as Dubai Media City, Internet City and Dubai Marina are 20 minutes away 
Sheikh Zayed Road lies a 5-minute drive away from the Dubai Mall/Burj Khalifa Metro Station, one can reach City Walk within 8 minutes.
The Dubai Mall is the ultimate shopping mall and leisure complex for people living in Dubai, featuring high-end boutiques, dining options, a huge departmental store, a cinema, and an ice rink. Residents can visit in a straight 6-minute drive on the Financial Centre Road (D71).