Dubai Marina now has become a major commercial hub that flaunts its shining skyline which is popular for the 307 metres tall Cayan tower also known as 'the twisting tower'. There are six luxurious apartment buildings in front of the tower named after the traditional fragrances which offer various amenities suitable for a Rivera lifestyle.
Living in Dubai Marina
The residents of the apartments in the tall towers at Dubai Marina do not just get spacious apartments but also premium property services to enjoy the most of the waterfront neighbourhood. One can enjoy public parks, walkways, and long boulevards. The joggers, weekend cyclists, and morning strollers can utilize the 8 km promenade to relax at their best suitable time. One can admire the marina from the shore while traveling through the water bus.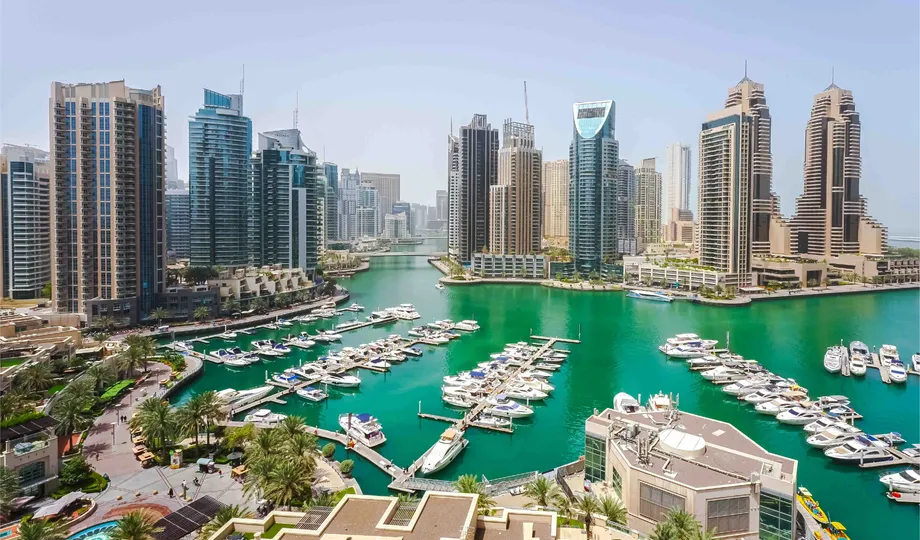 Things to do in Dubai Marina
You can find premium retail outlets and world-class restaurants within walking distance. The Dubai Marina Mall has over 130 shops and 20 eateries, a state-of-the-art cinema for an immersive experience, and a Waitrose supermarket where one can find all the essentials.
Jumeirah Beach Residence (JBR), one of the vibrant areas within Dubai Marina, is a place where you can find premium properties and various shops, cafes, hotels and clubs.  Residents can enjoy an open-air cinema and pop market on weekends.
Gym facilities like the Grosvenor House, Hilton JBR, and InterContinental Dubai Marina offer excellent gym facilities and indulgent spa treatments. Other fitness hubs, such as The Warehouse and NRG Fitness, run regular classes to help you get relaxed.
As far as transport is concerned one can travel through Dubai Marina Metro, Dubai Tramway, Dubai Ferry, Water Bus and a 10-minute drive from Sheikh Zayed Road.
Average Sale Price
AED 1,192 per square feet for an apartment
Average Rental Price
AED 87,075 per square feet for an apartment
Average Gross Investment Yield
AED 5.67% for an apartment